View Product Reviews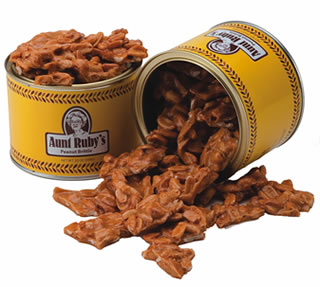 Peanut Brittle,
Jun 16, 2016 | Posted By Steve Burress from Pinetops, NC United States
Just wanted to say you make the best peanut brittle I have ever eat. Full of peanuts and that's the making of it.
Absolutely the best peanut brittle!
Jun 15, 2013 | Posted By Alex from Brunswick, ME United States
This is the best peanut brittle- it is loaded with quality peanuts and the brittle doesn't stick to your dental work. I can now eat brittle again- but only Aunt Ruby's.
Ms
Jan 17, 2012 | Posted By susan from Hagerstown, MD United States
Crunchy, fresh, delicious. What a great Christmas present this was! I received a tin of brittle for Christmas, and just got on line to order some more.