View Product Reviews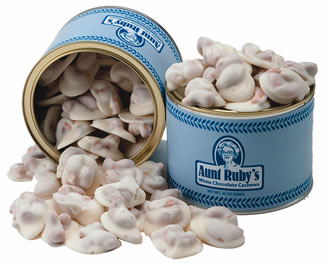 Unexpectedly delicious
Jan 21, 2018 | Posted By Lisa from California , MD United States
I bought these nuts as an extra while buying peanut tIns. I was not sure what to expect but was so overwhelmed by how good they are. My husband have never enjoyed white chocolate, but mix it with cashews and viola! Masterpiece. Will definitely purchase again... and again.
awesome
Feb 12, 2012 | Posted By steve from lexington, KY United States
these cashew clusters are delicious! The best thing I have ever put in my mouth! Everyone should at least try them once and then you'll be hooked!
Addictive
Nov 29, 2011 | Posted By KathyB from Rochester, NY United States
These are so tasty that it is hard to stop eating them. The cashews are large and fresh. Yum!