View Product Reviews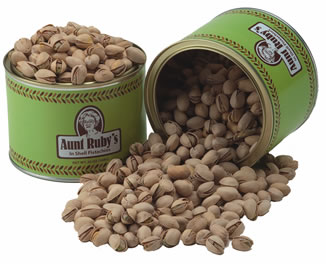 Best tasting pistachios ever!
Feb 17, 2011 | Posted By LINDA MIRON from Parkesburg, PA United States
We have enjoyed all of the Aunt Ruby's products we have purchased in the past so we were eager to try the pistachios. Needless to say, we were not disappointed! These are the best tasting pistachios we have ever eaten. Easy to open and just the right amount of salt. A real winner!!
Perfect addition to Aunt Ruby's
Dec 20, 2010 | Posted By Andrea Smith from Schenectady, NY United States
I bought a tin of these to divide into gift bags. Of course I had to taste test first. They were fresh and tasty - I even think my elderly mother will e able to open them. I am confident they will be a big seller and hope larger quantities will be offered in simple packaging. Great idea Miss Great-Granddaughter - keep giving your input!