View Product Reviews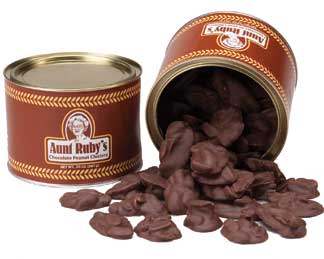 Best Peanut Clusters I've Had
Dec 28, 2018 | Posted By Robert Foster from WILLIAMSBURG, VA United States
I was looking for good quality chocolate peanut clusters close to home, but I wasn't having much luck. The ones I did find didn't have much flavor or they were painfully expensive (Kirwins). So, I took a chance and ordered two tins of Aunt Ruby's. My word, are they ever good! The chocolate appears to be about halfway between milk and dark chocolate. It's excellent. And the nuts are large and crunchy. These things can be addictive. I have to ration them or I'd go through a tin in two days.
Delicious
Dec 11, 2017 | Posted By Griffin Warren from Macon, GA United States
Got the 20 oz. chocolate peanut clusters for Christmas and they are the bomb.
Amazing!
Jun 29, 2016 | Posted By Timothy from Rocky Mount, NC United States
These are the best! I ship them to friends across the country. They always ask for more. Sometimes I have to drive to the store to pick them up and ship off season with an ice pack. Well worth it! All the products Aunt Ruby's sell are DELISH!
Hands down the best!
Mar 26, 2014 | Posted By John Imhof from Pittsburg, KS United States
Hands down the best chocolate covered peanuts I have ever eaten! Thank you.
YUM!!
Feb 25, 2014 | Posted By Wanda from Hickory, NC United States
These are sooo yummy, we can't stop eating them! Now we're sending them to friends to enjoy as well!! How bout some dark chocolate clusters too?! YUM!!
Mmm Good
Dec 2, 2012 | Posted By Sharon from Greenville, NC United States
Absolutely the best chocolate covered peanuts ever! We Have to drive 1hr. to buy these in the store but it is definitely worth the trip Love them:)
Nana
Oct 12, 2011 | Posted By Gray Marrow from Cedar Point, NC United States
Wonder Christmas and Valentine gifts. We look forward to October when they begin to ship chocolate again. Would not think of chocolate covered peanuts anywhere else.
Too Yummy!
Apr 5, 2011 | Posted By Lucy from Apex, NC United States
These are just too good! Our family and friends search the refrigerator and freezer for Aunt Ruby's chocolate covered peanuts and empty the container. We have started keeping an emptied container near the front as a decoy - it's contents - meal worms. Keeps our Aunt Ruby's Chocolate Covered Peanuts safe. Don't worry we still share and give plenty as gifts! Perfect for any occasion.
THE BEST
Jan 21, 2010 | Posted By Ann Shreve from Pleasant Garden, NC United States
We receive these from a vendor at Christmas every year. They are the freshest peanuts surrounded by the absolute finest chocolate I have ever tasted. I love them and that is why I came to the site to purchase. Great product!
best peanuts in the world
Sep 19, 2009 | Posted By cheynese from wilmington, NC United States
i dont even eat peanuts, but once i tried these chocolate covered peanuts it was out of this world
Made Dad Happy!!
Feb 3, 2009 | Posted By Tracey Nelson from Goose Creek, SC United States
I bought these for my dad as a surprise. He loved them. Said they were the best chocolate peanut clusters he had ever had, and boy, he's had a lot. It's difficult to find peanut cluster that are just choclate and peanuts and these sure fit the bill. I know he will enjoy receiving them again in the future!
The BEST around
Dec 10, 2008 | Posted By BVS from Roanoke, VA United States
These chocolate clusters BLOW AWAY the competition-- and I have tried them all! I have tried other brands' chocolate peanut clusters and absolutely none compare. Try and see!